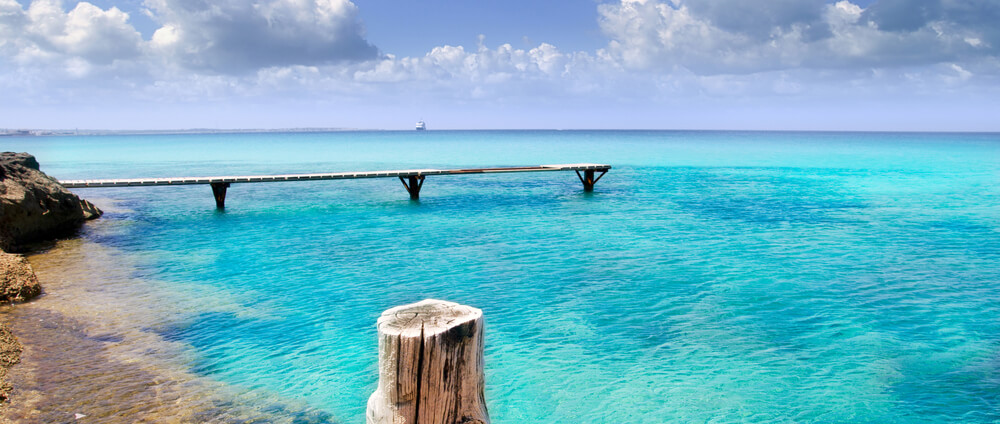 Ses Illetes – Formentera's most famous and popular beach
Being the closest beach on Formentera to Ibiza, Illetes is by far the busiest and is a popular spot for those who hire a boat in Ibiza and want a taste of the magical island of Formentera. With kilometers of perfect white sand to find your own little spot, it is no wonder why so many sun worshipers pilgrimage here to tan!
Anchor the boat in turquoise water and watch as small fish come to investigate. Throw a piece of bread into the water and prepare to witness a feeding frenzy! Jump in with a snorkel and you are in for a treat.
The rocky, Northern end of the beach is officially a nudist area and is usually more popular amongst local hippies than those spending the day on their private hire boats.
In the height of summer Illetes fills up with boats of all sizes – some even big enough to have their own helicopter pads! A little look around the boats here and you are sure to find famous faces from around the world.
Top Tip:
The fish restaurants on Illetes are famous for their world-class food and are very busy in summer. To avoid disappointment, make sure to book a table in advance (or let us do it!)
Beach bars
All of the restaurants here have a very busy and professional dinghy service to come and take you in to their restaurant from your hire boat. Your only difficulty is going to be choosing which one to try!
JUAN Y ANDREA'S
This iconic fish restaurant was little more than a humble fish shack when opened in 1972 by the Spanish couple, Juan y Andrea. Things have changed quite a bit since then and now this establishment sets the bar for beachside luxury dining.
The restaurant is set in the sand dunes, overlooking the beach of Illetes and its turquoise water and boats bobbing gently at anchor. This is probably the most idyllic spot anywhere in Ibiza or Formentera with the most perfect sand and clearest water.
Choose a table and eat with your feet in the sand as a small army of multilingual, ultra-professional waiters clad in an all white uniform rush around you and do your bidding. Everything on the menu is excellent. If its your first time eating here, we would recommend you order a few starters to share and then have the house special – the salt baked sea bass. It will not disappoint.
Pretty much everybody here will have turned up in a private or hire boat, each one bigger and more bling than the last. Choose a good boat to turn up here in style!
Dinghy Service – Yes
Tel. 971 187 130 / 630 258 144
www.juanyandrea.com
EL PIRATA
A popular family run fish restaurant that is great for Spanish classics like Paella. Get the dinghy in from your hire boat for a great lunch in a relaxed atmosphere with friendly staff.
Dinghy service – Yes
ES MOLI DE SAL
This restaurant started off life as a mill owned by the local salt industry, but was recently reformed and refurbished. Set on the rocks overlooking clear turquoise water, the position of this restaurant is fantastic for spying on all of the other Ibiza hire boats and private boats at anchor. The restaurant even has its own little pontoon for the dinghy to drop you off at after picking you up from your hire boat.
El Moli is famous for its lobster stew (caldereta de llagosta) and rice dishes.
Dinghy service – Yes
Tel. 971 18 74 91
www.esmolidesal.es
EL TIBURON
This place is great for a really relaxed atmosphere and more is more affordable for lunch than most of the other places on Illetes. The salads are great here, as are the sundowner cocktails, often accompanied by live music.
Dinghy service – Yes
Tel. 659 638 945
www.tiburon-formentera.com
BESO BEACH
Beso beach is the newcomer to the Illetes beach bar scene, but could just be the coolest of the lot!
The restaurant is hidden up in between sand dunes behind the beach. From the deck of your hire boat, all you can see of the place is the giant letter "B" elevated from the roof of the beach bar. The decoration of the restaurant has been very nicely done. All of the tables are outside, in the sand, but protected from the sun's powerful rays by a very high ceiling of old beach wood covered in palm leafs.
A delightful breeze blows through the tables keeping you cool as you choose you lunch from a great menu of Spanish food. The beach of Illetes tends to be the domain of restaurants specializing in exquisite local fish, and Beso Beach is no exception. Having said that, meat-lovers will adore the 2 person "chuleton" and great Jamon Ibericos.
But around 5pm when even the late lunches are drawing to a close is when Beso Beach really starts to get exciting. The tables get cleared away and the DJ steps in to get the party going on the newly formed dance floor in the sand. People start pilling in from their Ibiza hire boats and within a couple of hours the place will be heaving with beautiful people dancing, mojito in hand as the sun goes down over the wonderful Mediterranean sea.
An afternoon in Beso Beach is probably our favorite Ibiza boat hire experience and we recon it will be yours too. Let us book your Ibiza boat hire and come and see it for yourself.
What are you waiting for? Have a look at our Ibiza hire boats or contact us and let us know how we can help you.
Dinghy service – Yes
Tel. 971 324 572 / 622 222 113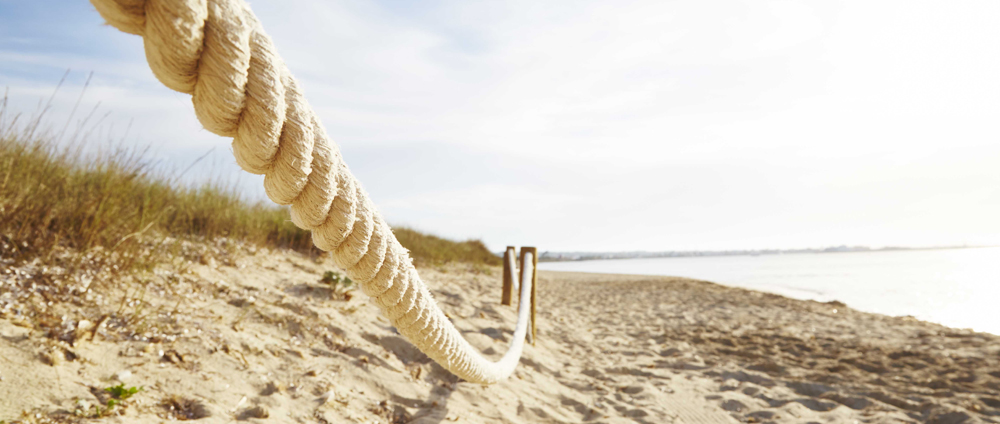 Es Palmador
Clients often describe this incredible little island as "like the Caribbean, but better!" after a day here with their Ibiza boat hire. The crystal clear waters and perfect white sand beaches attract yacht owners from all over the world and make it the perfect place to visit when you hire a boat in Ibiza.
Es Palmador is a small island just to the North of Formentera. The two islands are connected by a sand bar and it is in fact possible to walk through waste deep water from one island to the other, although we do not recommend this due to strong currents. The gap between the islands is known as "Es Pas" is about 200 meters across and is too shallow for boats to pass.
Possibly the most beautiful island in the Mediterranean, a stop off at Es Palmador is highly recommended. The island is deserted, no bars or restaurants, so if you plan on spending a whole day here after hiring a boat in Ibiza, come prepared with food and drink (or let us sort it out for you!). The only way to get to this magical island is by private boat.
Like many beaches around Ibiza, Es Palmador attracts nudists, so do not be alarmed if you spot any from the boat!
As Es Palmador lies between Ibiza and Formentera, we recommend getting the captain of your hire boat to stop off here on the way to or from Formentera for a quick swim at the very least.
It is about 20 – 25 minutes from to Es Palmador from the port of Ibiza by motor boat.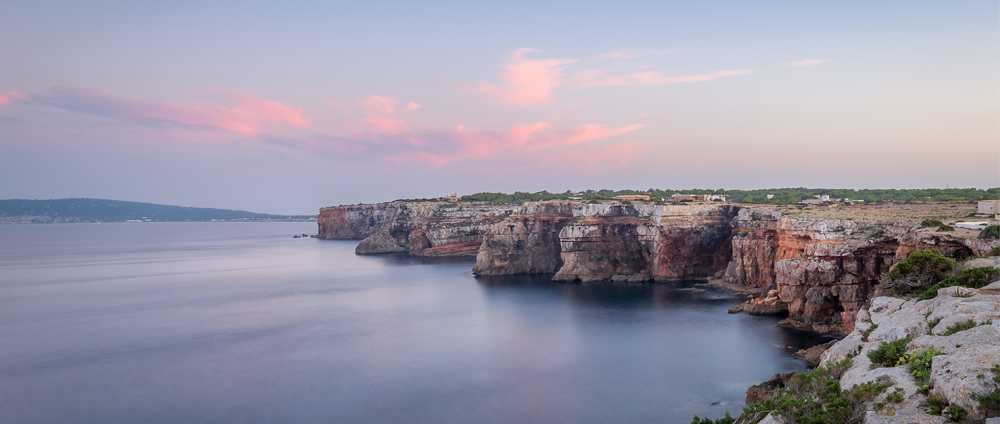 Cala Saona
Cala Saona is a gorgeous little beach situated on the West cost of Formentera. The beautiful white sand beach lies inside a deep horseshoe shaped bay and is surrounded by cliffs of red rock. A stunning view from the deck of your Ibiza hire boat.
The water is turquoise and the sand bottom mean easy, stress free anchoring for you on the day of your Ibiza boat hire. Close in to the bay can get quite busy, with many boats competing for space in front of Cala Saona. But if you don't want to go in to the beach and are just looking for a quiet spot to sun bathe and swim, try dropping anchor in front of the stunning cliffs, just before you get to Cala Saona. The water is just as nice here, and you will get a lot more privacy.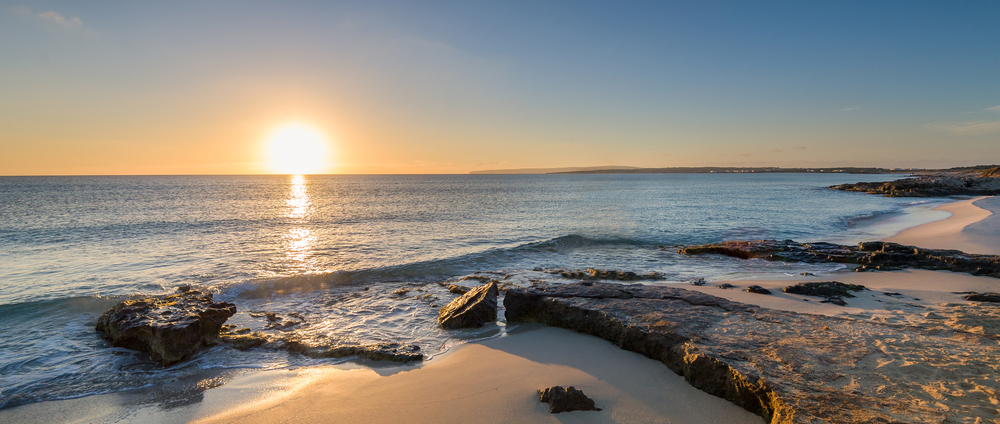 Es Migjorn
Probably Formenera's most natural and wild beach, South facing Es Migjorn is the furthest beach from Ibiza. Also the biggest beach of Formentera, at 6 km long, this natural, undeveloped paradise is a real must see. This is likely to be the most private spot to anchor you Ibiza hire boat. If you are serious about seeing Formentera, you really should come here.
The beach is made up of long, unspoiled stretches of white sand interspersed with rocky patches. Very few people visit this beach and it is easy to find your own little spot. A day or two of Ibiza boat hire will allow you to discover this place in all of its beauty. The water is crystal clear and some great snorkeling is to be had around the submerged rocks.
Being so far from Ibiza, to see this beach it is probably worth organizing at least a 2-day trip, sleeping on your hire boat or in one of the tiny and beautiful little bed and breakfast hotels found hidden in the sand dunes here. Contact us and talk through the possibilities, technicalities and costs of such a trip with us. Smart Charter Ibiza would be delighted to organize this trip for you.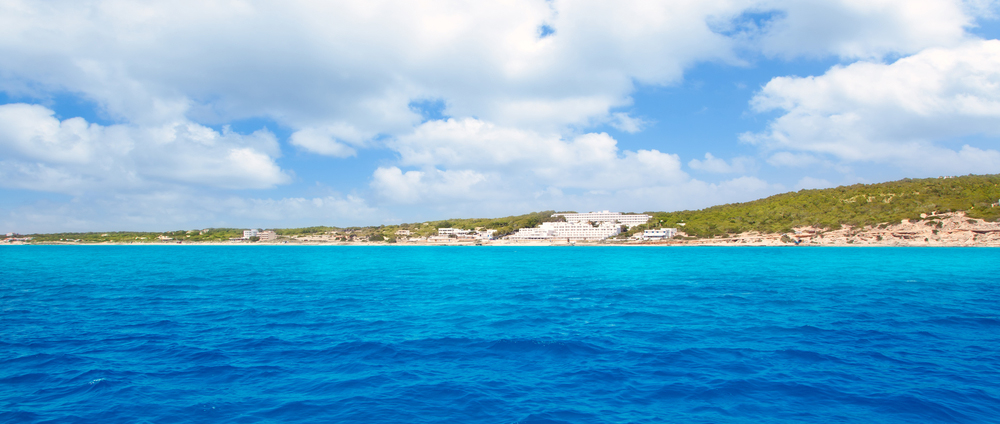 Playa Arenal
Looking East from Es Migjorn is Es Arenals. Pretty much the same beach, but Es Arenals feels a bit more lively with a couple of Spanish style beach bars, sun loungers and even windsurf and catamaran rental to be found on the shoreline.
In my opinion, this is probably the most underrated beach on Ibiza and Formentera. This place is absolutely mind-blowingly beautiful. And there are so few people here!
The little Spanish beach bars here are nothing like the ultra cool and expensive (but also great) restaurants found on Illetes. Instead, these modest little bars serve up great Spanish classics like paella at much more reasonable prices.
The water is just out of this world and the white sand is truly like something from a post card. If you have the time to make the trek here with your Ibiza boat hire, you will not be disappointed.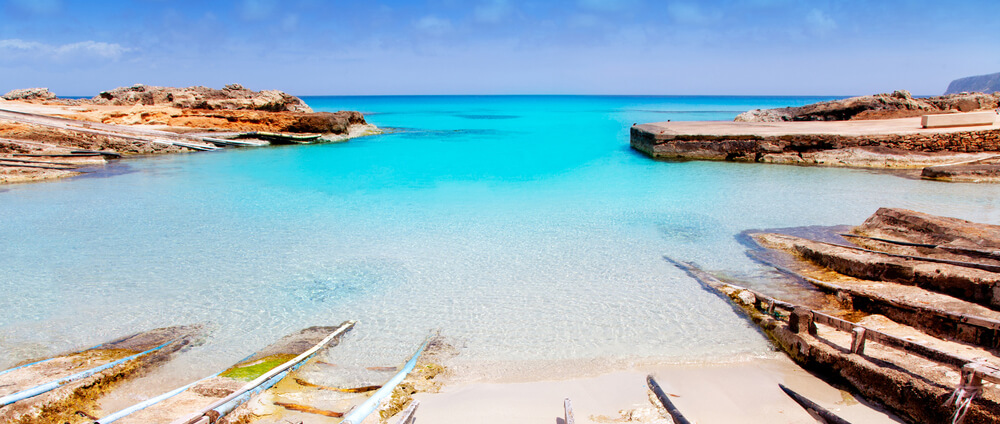 Es Calo
Es Calo is a little fishing village wedged in a corner of Formentera where the long, flat stretch of Playa Levante meets the steep cliffs that rise abruptly up to the town La Mola.
The beach here is small, but the water is some of the clearest you will find and full of small fish which follow you as you swim through the shallows.
A busy restaurant over looks little fishing huts all the way back to Ibiza making for stunning views as you enjoy your traditional Balearic lunch. We recommend try the rice dishes here such as paella or "aroz negro" (black rice) as there are really some of the best around.
Why not swim in from you hire boat and have a wander around the quiet little village to get a feel of a real Formentera town before having lunch.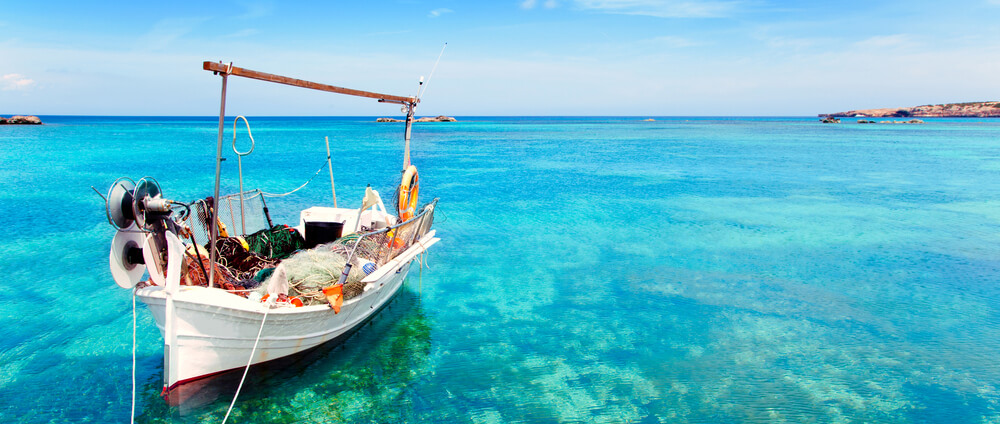 Es Pujols
Es Pujols is the biggest (pretty much only) tourist resort on Formentera. There are a few hotels and blocks of apartments here and in fact, even a bit of night life. Having said that, the beach still remains very much unspoiled and retains much of its natural beauty.
There are a couple of rocky islands to be found swimming distance from the shore, which make for great places for the kids to explore (under supervision, of course!). Also found here is a large watersports school offering windsurfing, paddle surfing and catamaran sailing amongst other things.
Plenty of little restaurants provide a good choice for all tastes. A family friendly beach to visit with your Ibiza hire boat.